OUR SERVICES
We offer efficient services to help you reach your goals faster
OUR PRODUCTS
Our products that impress our clients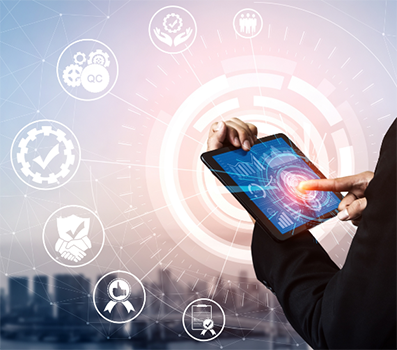 OUR FEATURES
Efficient Software Development Process

We strive to improve your current programs and develop new products according to effective methodologies and the latest IT tools. We can provide you with daily, weekly, or monthly reports on your projects' developments.

Flexibility

Our vast experience in the International Business Field gives us the flexibility to meet the varied needs of our customers.

Effective Communication

Our offices are equipped with a high-speed internet connection, various internet communication tools, and conference calls. This allows us to interact effectively with you and update your work status on a regular basis.
Portfolio We present some of our professional works for local and global clients
Al Furqan
Project Period: 6 Months
Emtias Company
Project Period: 1 Month
Muqawlat
Project Period: 18 Months
PalPro
Project Period: 24 Months
Refulancer
Project Period: 8 Months
European Virtual Clinic
Project Period: 5 Months
BeeHive
Project Period: 6 Months
Palmed Deutschland
Project Period: 1 Month
TESTIMONIAL
Our Happy Clients
''
...
What distinguishes ISMART company is that it provides the high-quality and focus on to details, as well as the full providence of after-sales service, constant follow-up of maintenance and development works for the services provided and immediate responding to our inquiries. Thank you and best wishes
The team of ISMART Company is characterized by its well-done work and high-quality products. They have a unique characteristic which is the spirit of initiative and creative discovering of solutions and completion of tasks with sincerity and dedication.
We have a distinctive experience with ISMART, where it is one of the main partners in the online MUQAWLAT Platform (a unique platform in the Middle East, which serves the construction, contracting and engineering sectors). Moreover, we commend ISMART team for their great efforts toward the launching and continuation of the Platform work. We wish them all the best.
Hamza Ghunaim
Business development Manager
Zaidan A. Dhman
Refulancer CEO
Luai Bahder
Time Qatar ICT / ELV Manager
Dr. Wael Shadid
CEO Muqawlat